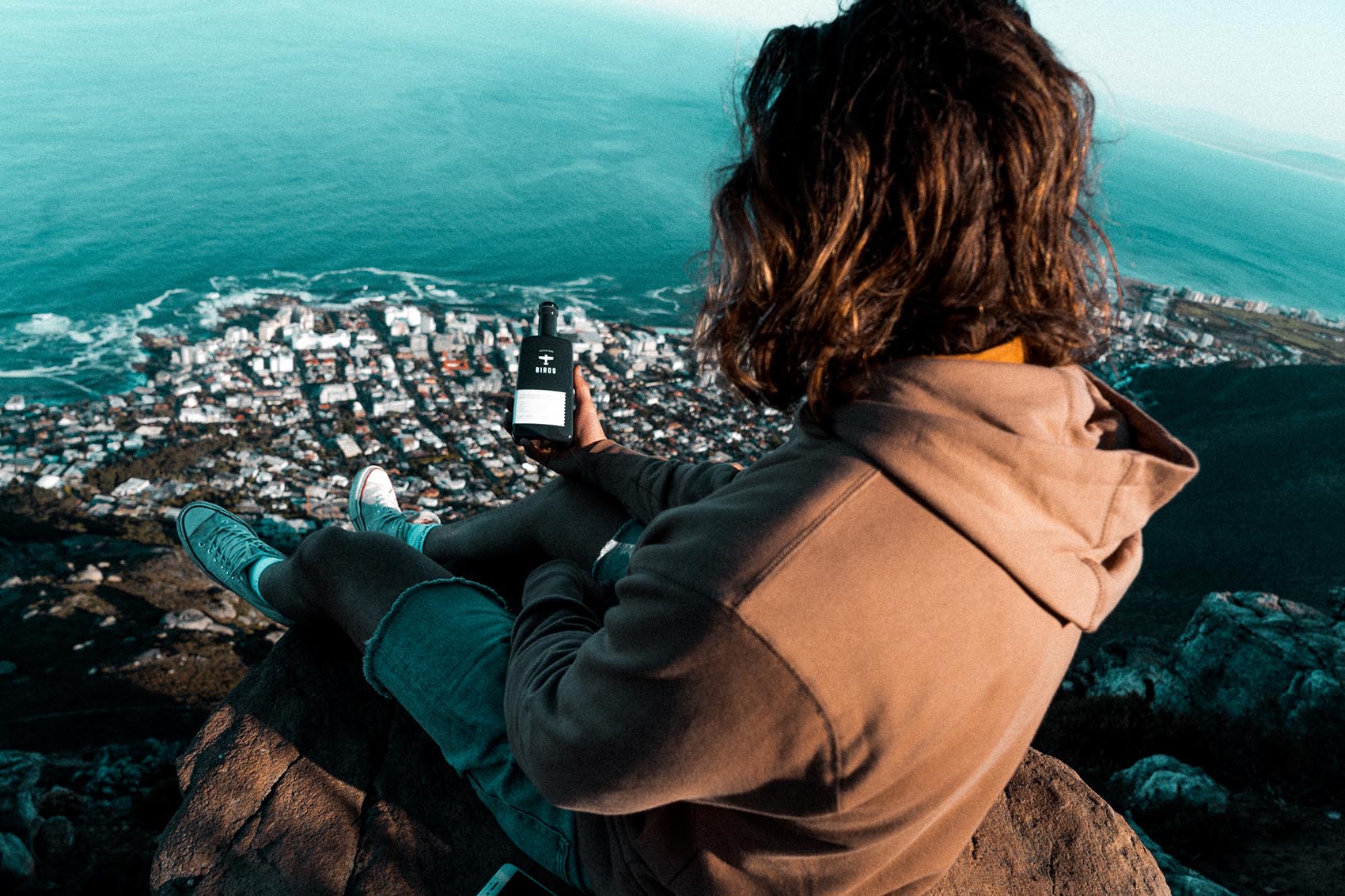 We create high quality German spirits and wine, which are inspired by our travels around the world.
✔ german craftsmanship combined with characteristics of around the world
✔ recommended by trade press and the best bartenders around the globe
✔ we are not just another high quality product - BIRDS is a lifestyle
✔ minimalistic and modern design
✔ we are supporting international humanitarian projects
Made by Adventurers,
For Adventurers
Lupo and Basti, two friends from Berlin and Hamburg who have an insatiable thirst for adventures. This is why they started escaping the everyday rut a couple of years ago to travel around the world - a journey through 5 continents. Their idea was to create a revolutionary spirits and wine brand, which combines German craftsmanship with the travelling lifestyle.
fresh / summery / complex / harmonious
☞ Perfect as a sundowner with a mild Tonic Water and fresh basil to garnish.
[42% Vol | 500ml | hand-numbered]
BIRDS Dry Gin is a fresh german handmade Gin with 15 handpicked Botanicals from 5 continents; e.g. full-bodied juniper, mediterranean citrus and basil nuances, perfectly finished with vibrant ginger and fruity berries.
Our BIRDS Dry Gin works fabulously in sundowners, such as in a classic Gin & Tonic, with basil instead of cucumber!
With each BIRDS Dry Gin bottle sold, we support international humanitarian projects with one euro per bottle.
fruity / warm / complex / exotic
☞ Perfect for extraordinary cocktail creations. For serious adventurers only!
[42,2% Vol | 500ml | hand-numbered]
BIRDS Botanical Spirit is the alternative spirit for people with an open palate, that are looking for a unique adventure in their glass.
Juniper, the main ingredient in gin, is left out on purpose. Aposed to the later, we use 12 exotic ingredients from 5 different continents; e.g. orange peel, mace, cocoa shell & eucalyptus. Instead of neutrally distilled alcohol (>95% Vol) we use fruity Riesling, which we distill very carefully at 75% Vol. and macerate for 4 days and 4 nights.
The result is a unique spirit, that breaks boundaries and doesn't let itself be categorizes. Taste the Journey, taste the Adventure!
Fresh / light / easy-drinking
☞ Perfect for any occasion. With friends on the balcony or on a date by the lake.
[available in 4 different versions | 750ml]
Together with our friend and winegrower Manuel Brixius we have created a modern set of wines, that combine german craftsmanship with a travelling lifestyle.
Currently we have four tasty variations: BIRDS Riesling Original, BIRDS Riesling Dry, BIRDS Rosé and BIRDS Red. A modern wine thats liked by all. The vinyard lays in the 'Mittelmosel' which has a lot of steep hills so that most of the grapes have to be picked by hand.
Manuel Brixius, who took over family business in 7th generation since 2016, knows these wine hills like no other!
You work in trade or hospitality and want to work with us?
Click here to contact us!
… and for press requests click here
During our travels around the world we discovered a lot of great places. There were also occasions when we were so emotionally moved, leaving impressions that we simply cannot forget or ignore. Therefore we came to the decision to help international humanitarian projects through BIRDS. Each year we will be supporting different projects that have especially touched our hearts.
Let's all actively help a little bit to change the world for the better!